Hello
Guest
,
---
Register now to gain access to all of our features. Once registered and logged in, you will be able to create topics, post replies to existing threads, give reputation to your fellow members, get your own private messenger, post status updates, manage your profile and so much more. If you already have an account,
login here
- otherwise
create an account
for free today!
TeamSpeak
AbsoluteHacks
14 members, 28 visitors and 1 anonymous users
Bing, TheRealArun, Google, ToxICRoot, rnock30, MrQ, xlX Skate Xlx, barrybless, 1clicked, elcheato, Extortion, DaRk_NeSs, erickdavila15, Gantor555, ShotgunsM8, TehChronic
15 Mar 2015
Dear members,
The new loader is almost ready for release, just like how we did testing for CA EU Hacks, we will be giving limited people access to a test group for the new loader.
This is how the loader looks at the moment, its pretty simple, but its way more technically advanced: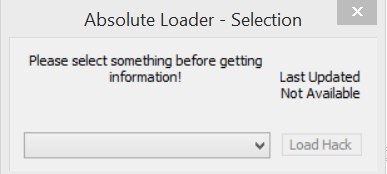 Simply leave a request via a reply to this thread and we will give you a tester group (if you qualify)
You must leave a reply daily if you want to retain this group, leave a daily update with the following template
Which hacks have you injected:
Have you had issues with crashing?:
Do you have to inject the hacks more than once for them to work (for CA):
Extra info:
If you dont have any problem, simply leave a reply with this teplate:
Which hacks have you tried:
INSTRUCTIONS:
There are 2 versions of the loader, x64 and x86
X86: Combat arms, Battlefield 3, Counter striker source
X64: Battlefield 4, Battlefield Hardline
RULES:
Do NOT share the loader with ANYONE in ANY way shape or form. If you fail to follow this simple rule, you will be demoted from the test group and possibly banned from the site.
We will know if you do btw!
That's it, have fun and thank you for helping us test.
Download the new loader here: http://absolutehacks...ownload_new.php
37,910

Total Posts

23,286

Total Members
Shann3213 Newest Member

97

Most Online
42 users are online (in the past 30 minutes)
14 members, 27 guests, 1 anonymous users (See full list)
Bing, TheRealArun, Google, ToxICRoot, rnock30, MrQ, xlX Skate Xlx, barrybless, 1clicked, elcheato, Extortion, DaRk_NeSs, erickdavila15, Gantor555, ShotgunsM8, TehChronic